MiFare Card Energy Saver Switch for Hotel (40A)
৳ 2,000.00
MiFare Card Energy Saver Switch for Hotel (40A) – Energy Switch Saver MiFare Key Card Holder – Energy Saving Card Switch – Hotel Room Electric Power Saver
MiFare 13.56Mhz Card Supported (we can also provide pre-order based Temic 125Khz card and any other card switch).
Delay power-off design, after removing the hotel key card from the card saver switch, there will be a delay of 10-20 seconds before the power shuts down.
Stable Function and Long Lifetime
Current: 40A, Load: 8800W
Size: 86*86mm
Description
A Card Saver Switch is an energy-saving device used in hotels that helps prevent the waste of electricity. It works by automatically turning off the power to the room when the guest removes their key card from the card reader, signaling that they have left the room.
This feature ensures that the electricity is not wasted on devices that are not in use, such as lights, air conditioning, and other electronic devices. This not only reduces energy consumption but also lowers energy costs for the hotel. Additionally, it reduces the carbon footprint of the hotel, which is an essential factor in environmental sustainability.
By using a Card Saver Switch, hotels can significantly reduce their energy consumption and promote sustainable practices while also improving the guest experience. Guests can feel good knowing that their hotel is taking steps to reduce their environmental impact, and the hotel can save money on electricity bills. Overall, a Card Saver Switch is a simple and effective way to stop the waste of electricity and promote energy efficiency in hotels.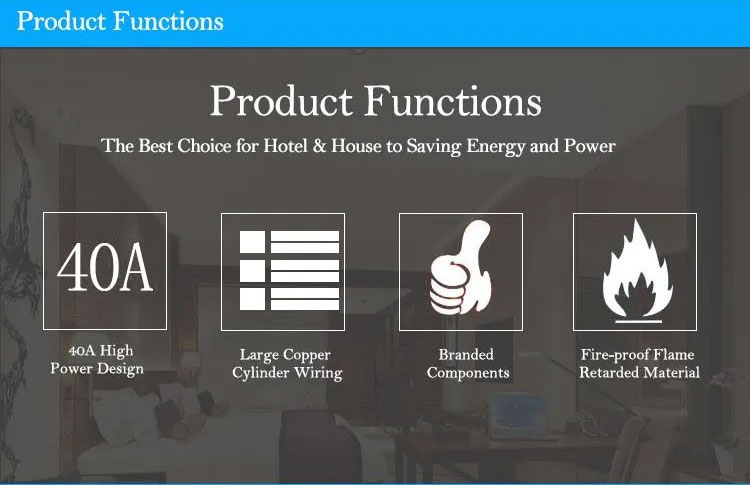 MiFare Card Energy Saver Switch for Hotel (40A) – Energy Switch Saver MiFare Key Card Holder – Energy Saving Card Switch – Hotel Room Electric Power Saver Switch
MiFare 13.56Mhz Card Supported (we can also provide pre-order based Temic 125Khz card and any other card switch).
Delay power-off design, after removing the hotel key card from the card saver switch, there will be a delay of 10-20 seconds before the power shuts down.
Stable Function and Long Lifetime
Current: 40A, Load: 8800W
Size: 86*86mm
Technical Specifications:
| | |
| --- | --- |
| Size | 86*86*35mm |
| Current | 40A |
| Load | 8800W |
| Voltage | AC 220V |
| Color | White |
| Material | PC |
| Delay Power-Off Time | 10 – 20 seconds |